Làm cho thiết bị của bạn nhanh và sạch RAM với ứng dụng này. Khi bạn đóng một ứng dụng trên thiết bị của bạn thì nó vẫn còn mở dưới nền để mở nhanh sau đó. Muốn tắt hết thì bạn phải mở thanh đa nhiệm giữ một lúc biểu tượng ứng dụng và xóa nó. Auto App Killer sẽ giúp bạn quản lý RAM bằng cách tắt các ứng dụng khi lượng RAM trống của bạn bị tới hạn ở mức mà bạn đặt.
Auto App Killer giúp thiết bị của bạn chạy trơn tru bằng cách tự động tiêu diệtcác ứng dụng sau khi bạn đạt đến một dung lượng RAM trống nhất định (mà bạn đã thiết lập trong cài đặt). Làm như vậy sẽ giữ cho thiết bị của bạn bằng hoặc cao hơn dung lượng RAM này để đảm bảo bạn có rất nhiều bộ nhớ hoạt động cho bất cứ điều gì bạn làm trên thiết bị của bạn.
Điều này sẽ không tắt các ứng dụng hiện đang xử lý nền (ví dụ: tải về một cái gì đó, chơi nhạc, nhận thông tin GPS, VOIP, vv). Tức là Pandora sẽ không bị đóng nếu nó chơi nhạc. Điều này được thực hiện trên mục đích không làm hỏng trải nghiệm của bạn trong khi sử dụng thiết bị.Tương thích với iOS 5.0,
Vẫn chưa tương thích với 5.1
Không hỗ trợ cho iPad
DESCRIPTION:
Compatible with iOS 5.0,
does not work on 5.1 as of yet
Does NOT support iPad
Keep your iDevice fast and free up RAM with this tweak.
Works for iPods and iPhones ONLY! (NO iPad support as of yet)
Works on iOS 5 ONLY!
Whenever you close an application on your device it stays open in the background for quick access later. The downside to this is the only way to truly close an application, and stop it using precious RAM, is to use the application switcher bar and kill the app yourself.
Auto App Killer helps your device run smoothly by automatically killing applications after you reach a certain amount of RAM space (which you set in the settings). Doing so will keep your device at or above this amount of RAM to ensure you have plenty of active memory for anything you do on your device.
This will NOT kill apps that are currently doing background processes (downloading something, playing music, receiving GPS information, VOIP, etc.). I.E. Pandora will NOT be killed if its playing music. This is done on purpose as to not ruin your experience while using your device.
Features:
*Set the free RAM space that you want Auto App Killer to activate at
See larger Screenshots below..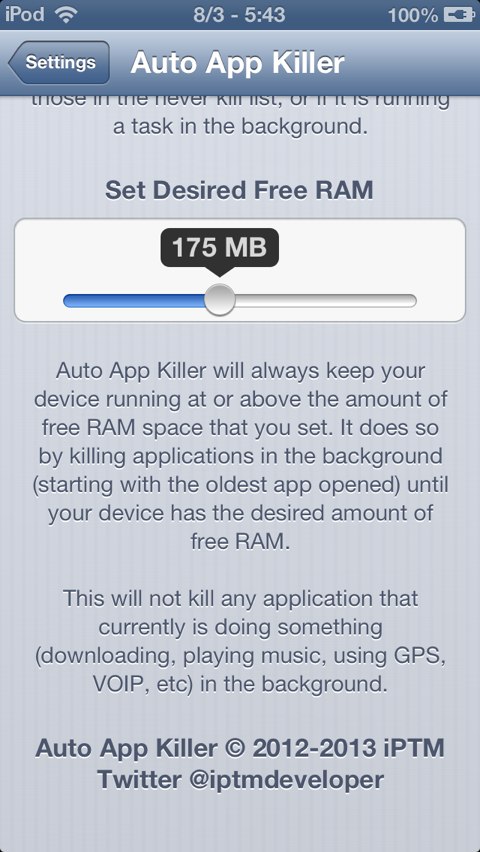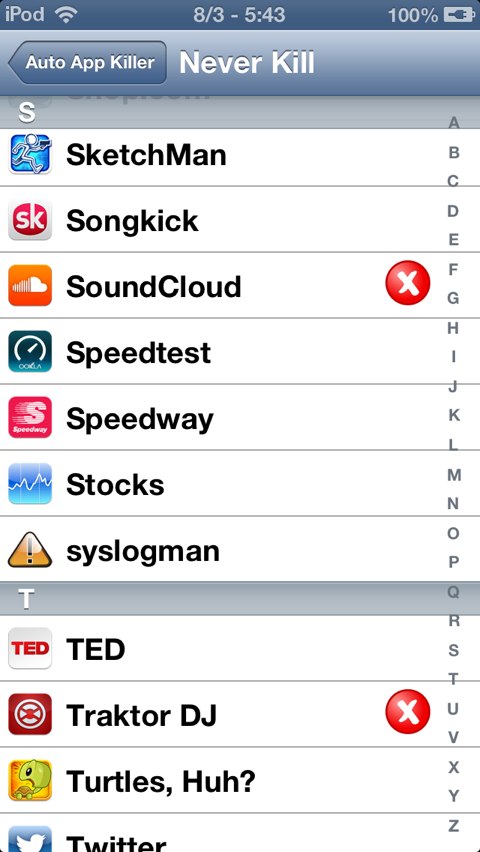 VERSION:
v 1.0.2
*Update how the tweak kills applications
*Small bug fixes
***UPDATE 2.0 COMING SOON***
2.0 Features will include:
-Add apps to a list that will never be killed
-Add apps to a list that will always be killed
-Kill off apps from order of oldest to newest opened
-Other updates/options and customizations
DOWNLOAD:
http://www.multiupload.nl/FEKVIO1BQG
http://www.mediafire.com/?dxszfx1ava27fxj
Cracked by Fabius